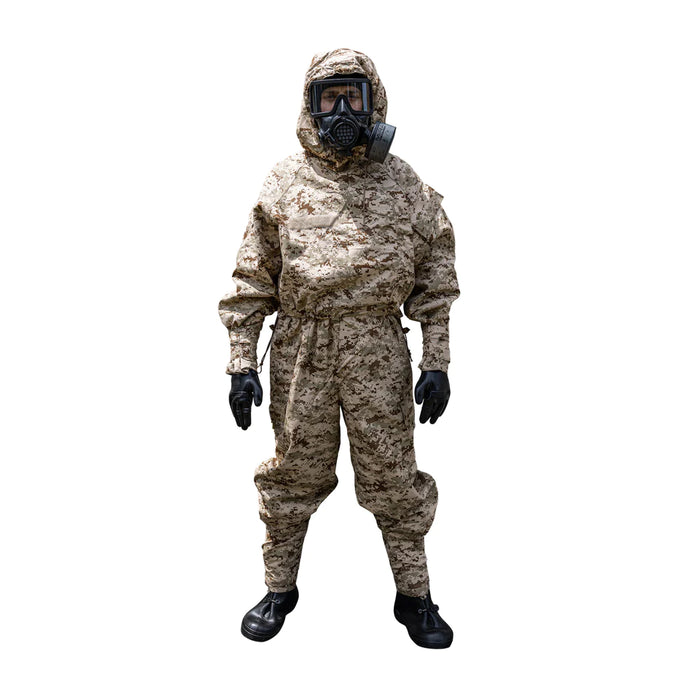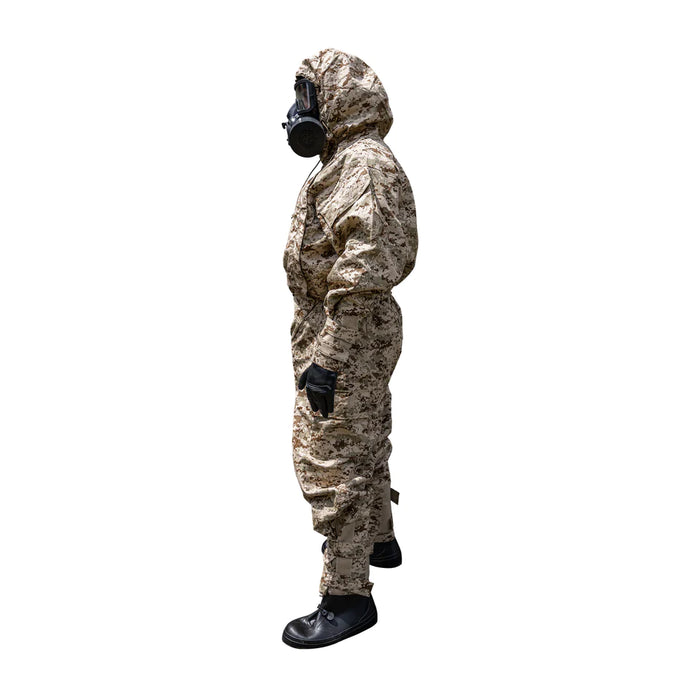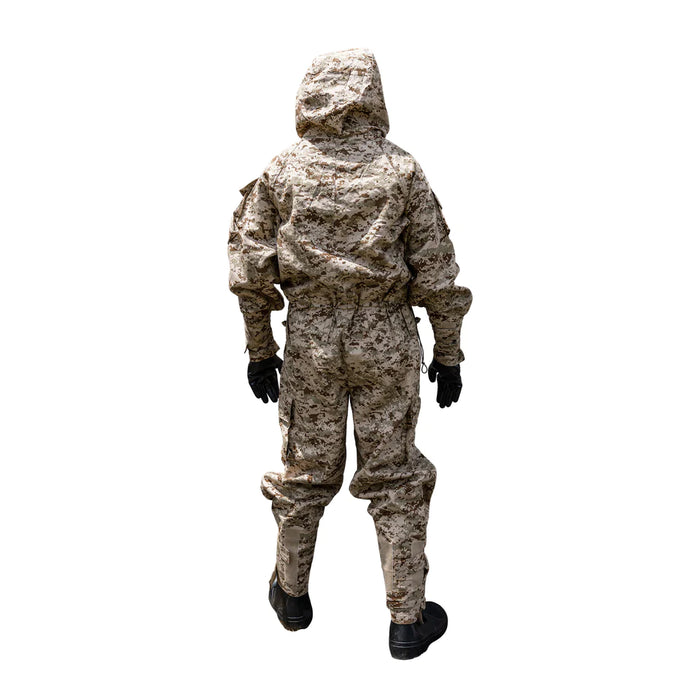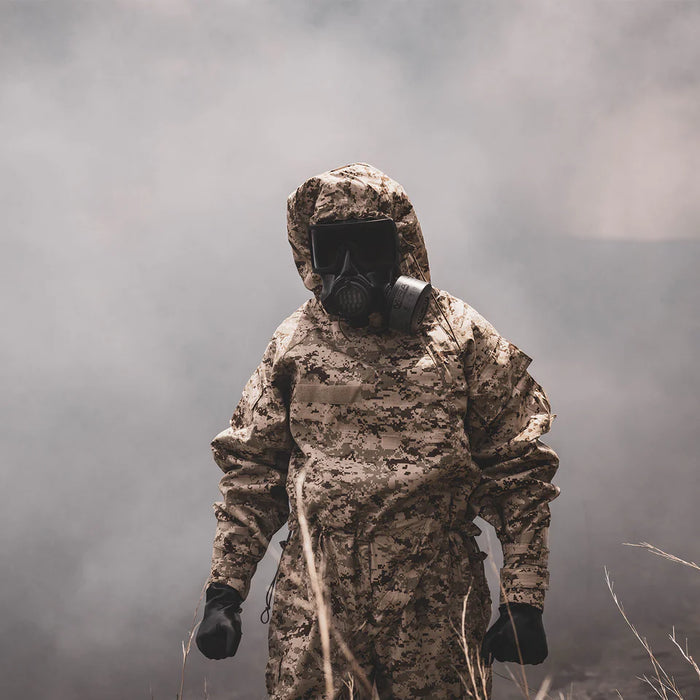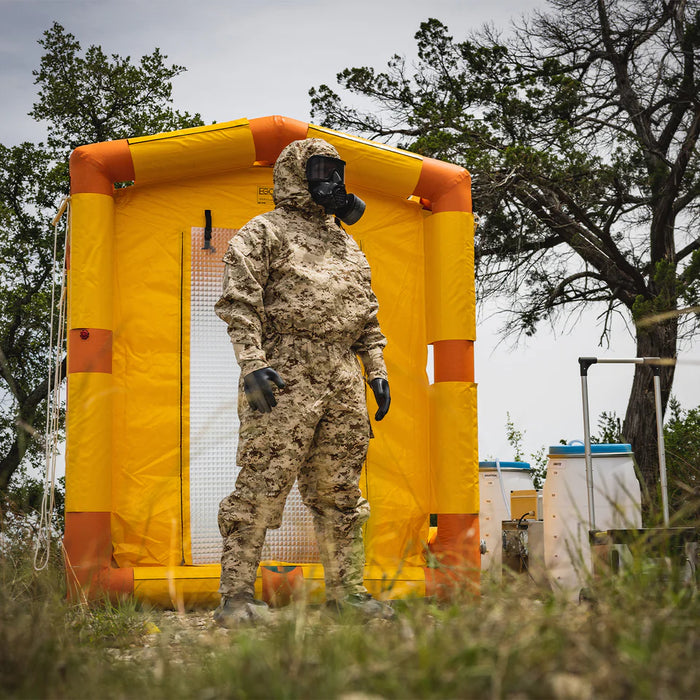 MIRA Safety MOPP-1 CBRN Protective Suit
The MIRA Safety MOPP-1 CBRN Protective Suit provides next-generation protection from chemical, biological, and even nuclear threats.
Whereas most traditional hazmat suits are engineered to be impermeable, the MIRA Safety MOPP-1 CBRN Protective Suit has the same advanced semipermeable construction as the suits used by the US Military.
Thanks to its special construction that includes an integrated layer of embedded carbon spheres, this suit effectively "breathes" while providing total body protection to the user. As a result, it can be worn for much longer periods in hazardous environments because the risk of exhaustion or dehydration is reduced.
It's also engineered to be far more durable than the average hazmat suit. With its semi-permeable construction, the MOPP Suit is designed to be worn during active duty use and for long periods in response to elevated threat levels. Most hazmat suits are designed for one-time use, but the MIRA Safety MOPP-1 CBRN Protective Suit will last a minimum of 30 days under average use conditions and up to 10 decontamination washes. 
If the suit and user are not exposed to direct CBRN threats, the suit can be worn for up to 10 years, presuming it is not damaged or compromised.
Featuring superior puncture resistance and a digital camouflage pattern, the MIRA Safety MOPP-1 CBRN Protective Suit is a top-tier solution that protects against chemical warfare agents (CWA) and toxic industrial chemicals (TIC).
Key Features and Benefits
Semipermeable construction like the MOPP Suits used by the US military

Enhanced ventilation enables longer use compared with traditional hazmat suits, even in extreme environments

Embedded, activated carbon spheres that filter the ambient air

Designed for long-term use

Flame retardant, according to ISO 6940:2004

Can be washed up to 10 times at 40°C (104°F) to decontaminate after potential exposure

Lightweight (5.5 lbs.) to enable mobility and minimize fatigue

Integrated hood that adapts to fit respirators

Compatible with all MIRA Safety gas masks and most CBRN respirators/hoods

Front zipper with covering flap for easy donning and maximum protection

One-piece coverall design to reduce the possibility of vapor and gas ingress

Includes a hermetically sealing storage bag and pump

Minimum 10-year shelf life when stored in its original packaging in appropriate storage conditions

Made in the Czech Republic
Size Guide
| SIZE | HEIGHT (cm) | CHEST (cm) |
| --- | --- | --- |
| SM/MD | 156-172 | 78-94 |
| LG/XL | 172-188 | 94-110 |
| 2XL/3XL | 188-204 | 110-129 |
The Next Generation of Protective Suits
The MIRA Safety MOPP-1 CBRN Protective Suit delivers protection above and beyond anything else available on the civilian market today.
Indeed, it's even superior to the protective gear trusted by most military, police, and professional operators worldwide. Most entry-level biohazard suits are only designed to provide limited protection for workers on a job site and are designed to be replaced after a single day's use, with more focus on affordability than extended protection.
Higher-grade hazmat suits can provide a wider range of protection, but they're also limited in that they are impermeable. So, in addition to keeping threats out, they keep air out too. As a result, the use time for these types of hazmat suits is limited. When performing work that requires strenuous effort, users can become dehydrated or exhausted after as little as an hour of work.
The first MOPP Suits were developed to solve a specific challenge for the military—allowing soldiers to maintain maximum readiness and mobility without compromising on protection from gas and vapor threats.
The MOPP-1  is the latest evolution of protective suits, engineered to provide all-day comfort and protection from direct exposure to deadly chemical and toxic threats. It's available in multiple sizes to fit various body types.
When stored in its original packaging in appropriate conditions (see below), the MOPP-1 CBRN Protective Suit will last ten years. 
Remember, when wearing a MOPP Suit, users will require the addition of a functioning full-face respirator, a properly CBRN-rated filter, butyl gloves, and boots to ensure proper protection from airborne contaminants, radioactive particles, and other threats.
For storage after use, we recommend purchasing clothing storage bags that are hermetically sealed and come with a hand pump. These bags usually feature a double zip and a triple seal valve, ensuring a perfect hermetically-seal that will reduce the size of your MOPP-1 Suit by up to 50% for easier long-term storage.