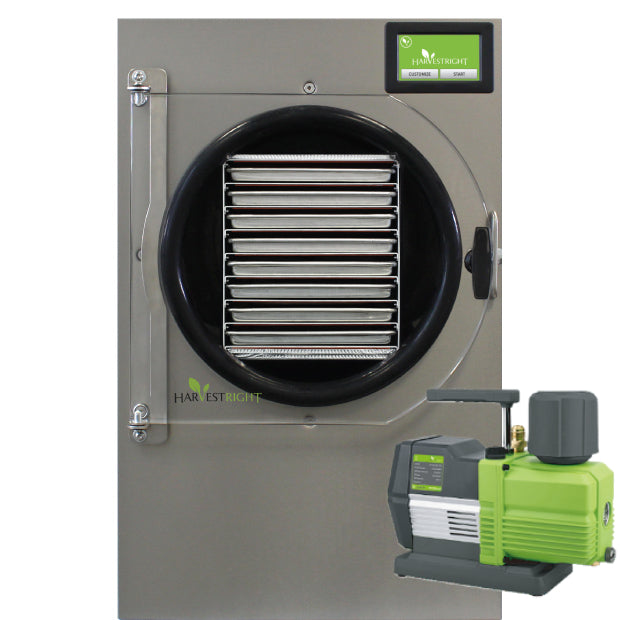 Harvest Right 8-Tray Large Pharmaceutical Freeze Dryer- Stainless Steel
Coupons/Discount Codes cannot be used on this item!
USA & International customers, please purchase HERE
Features
The freeze dryer has built in intelligence. It automatically and perfectly manages the freeze drying process
The ideal vacuum pressure and drying temperature is maintained for each material-preserves freshness and potency
10.25 square feet of tray space-nearly twice the capacity of Harvest Right's standard Large freeze dryer
Shelf Unit Has shelves for 8 trays (each tray 9″ W x 20.5″ x 0.75″ H)
6 liters of ice capacity
Dimensions
Overall product dimensions: 20.25″ W x 23.75″ D x 30.75″ H
Perfect for a counter top, cart or table.
161 lbs
There is also a detachable vacuum pump that sits outside the freeze dryer. Premier Vacuum Pump: 32 lbs.
Power
110 volt (NEMA 5-20) outlet. A dedicated 20 amp circuit is required.
What's Included:
Large Pharma Freeze Dryer
Premier Vacuum Pump
Vacuum Pump Oil
Oil Filter
Stainless Steel Trays (set of 8)
Guide to Freeze Drying
Maintenance
Simply filter and replace oil. Takes one or two minutes.
Warranty:
3 year limited warranty.
Note: $180 restocking fee will apply for any cancelled or returned order!
Shipping in Canada only (Free Shipping in AB, SK, MB, ON, QC, BC* | Shipping fee- Up to $600 in Vancouver Island & Surrounding Islands*, The Maritimes, Yukon, Northwest Territories and Nunavut.) No Customs, Duties or Cross Border Hassles!