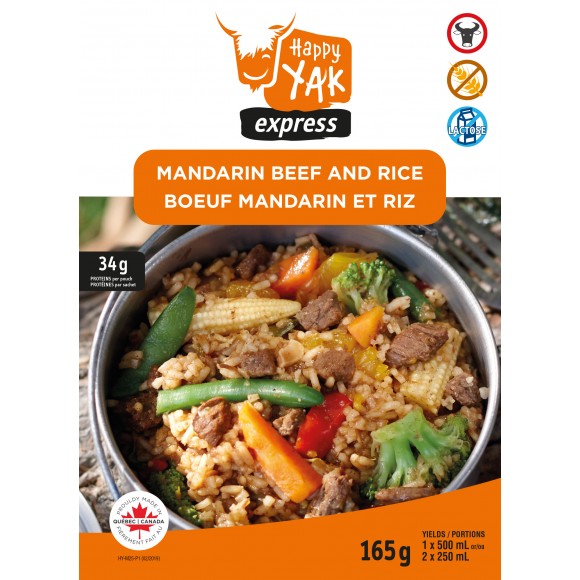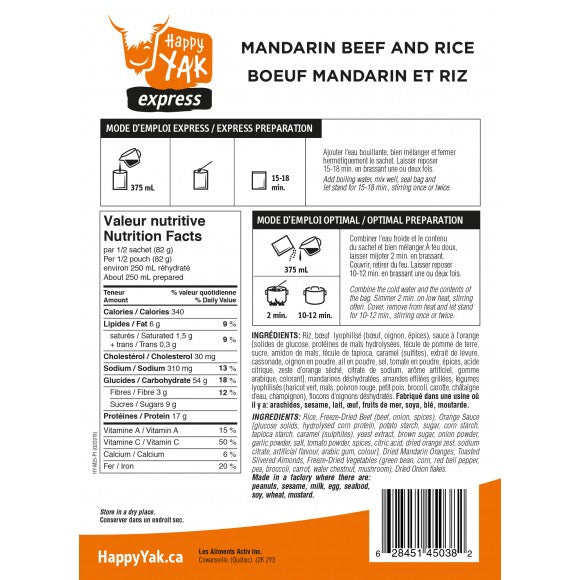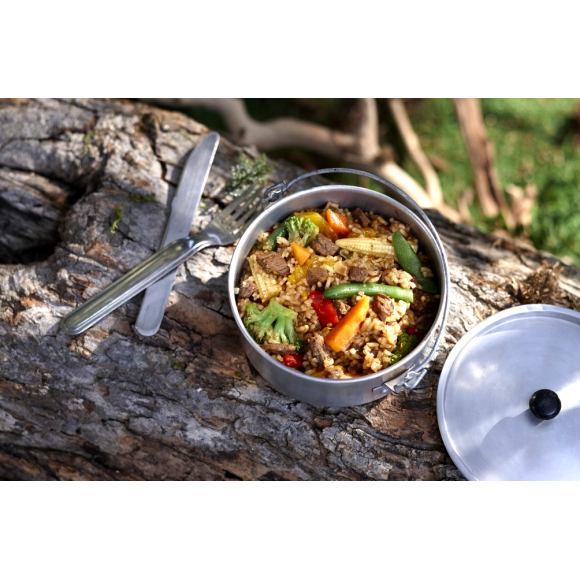 Happy Yak- Mandarin Beef and Rice
One of the most popular! Our mandarin beef is full of tender pieces of beef, Asian vegetables such as miniature corn, red peppers, sweet chestnuts, carrots and onions, mandarin oranges and toasted slivered almonds.  A wonderful combination on a bed of white rice white and spicy orange sauce.
For the Asian food lover in you!
Express
The tender beef and the delicious tangy flavour of the mandarin oranges contrast nicely with the colourful vegetables and roasted almonds. A superb combination of textures, flavours and aromas that is always a culinary pleasure.
An exciting taste of Asia awaits you.
Did you know?
Asian cuisine is a medley of speciality solos that are East Asian cuisine, Southeast Asian cuisine and South Asian cuisine. From each one emanates the countries' native cuisines. Every country has its specialities and the gastronomy can be quite different from one to the other.
Standard Preparation
Combine the cold water (500 ml/serving) and the contents of the bag in a pan. Mix well.
Bring to a boil, stirring constantly. Cook 1-2 minutes. Reduce heat and let stand for 10-12 minutes.
Express Preparation (for 1 serving only)
Add 500 ml of boiling water to bag. Mix Well.
Seal bag and let stand for 15-18 minutes, stirring once or twice.
With Insulating Pan Cover
Simmer 2 minutes on low heat, stirring often. Cover, remove from heat and let stand for 12-15 minutes, stirring once or twice.
Weight for 1 portion envelope : 170 g
Weight for 2 portions envelope : 340 g
Rice,
Freeze-Dried Beef (beef, onion, spices),
Orange Sauce [glucose solids, hydrolysed corn protein, potato starch, sugar, corn starch, tapioca starch, caramel (sulphites), yeast extract, brown sugar, onion powder, garlic powder, salt, tomato powder, spices, citric acid, dried orange zest, sodium citrate, artificial flavour, arabic gum, colour],
Dried Mandarin Oranges, Toasted Slivered Almonds,
Freeze-Dried Vegetables (green bean, corn, red bell pepper, pea, broccoli, carrot, water chestnut, mushroom),
Dried Onion flakes. 
Made in a factory where there are : peanuts, sesame, egg, milk, fish, sea food, soy, wheat, mustard.