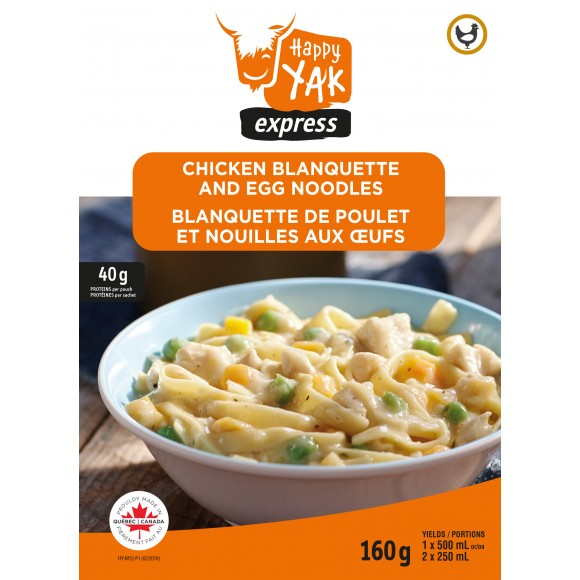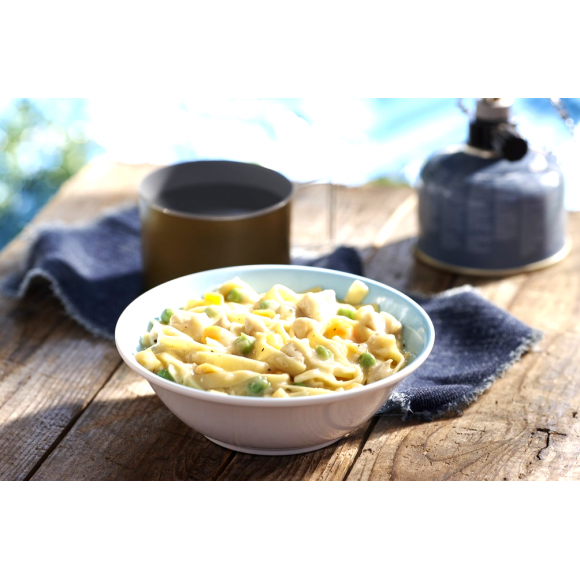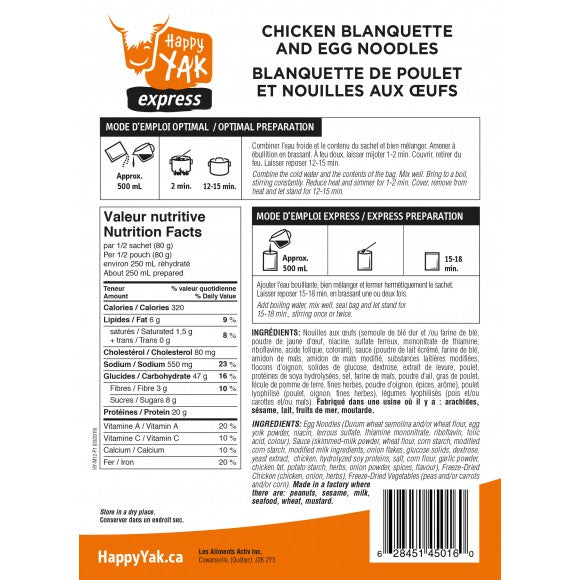 Happy Yak- Chicken Blanquette & Egg Noodles
A creamy bechamel sauce on a generous portion of egg noodles, topped with chunks of chicken and vegetables: mmm... savoury... With a hint of garlic, black peppercorns and a hint of garlic: divine! Some dishes deserve recognition on their own merits; this is one of them.
Express 
Some say a « blanquette » is a stew of white meat in white sauce, or « white stew», while others advocate that the term « blanquette» means « the sauce that coats the stew is white». Whatever the meaning, served with egg noodles and vegetables, the blanquette of chicken is a more than a meal, it's a must.
Did you know?
In addition to being a stew, a blanquette is also a variety of small white pears, a kind of grape, and a type of white wine?
Standard Preparation
Combine the cold water (400-500 ml/serving) and the contents of the bag.
Mix well. Bring to a boil, stirring constantly.
Reduce heat and simmer for 10 minutes, stirring occasionally. Cover, remove from heat and let stand for 2 minutes.
EXPRESS Preparation
Add boiling water (400-500 ml/serving) to the bag.  
Mix well. Close lid. Let stand about 18-20 minutes (stir once during this time or shake the bag).
With Insulating Pan Cover
Simmer 2 minutes on low heat, stirring often. Cover, remove from heat and let stand for 12-15 minutes, stirring once or twice.
Weight for 1 portion envelope : 160 g
Weight for 2 portions envelope : 320 g
Egg Noodles (Durum wheat semolina and/or wheat flour, egg yolk powder, niacin, ferrous sulfate, thiamine mononitrate, riboflavin, folic acid, colour),
Sauce (skimmed-milk powder, wheat flour, corn starch, modified corn starch, modified milk ingredients, onion flakes, glucose solids, dextrose, yeast extract, chicken, hydrolyzed soy proteins, salt, corn flour, garlic powder, chicken fat, potato starch, herbs, onion powder, spices, flavour, colour), 
Freeze-Dried Chicken (chicken, onion, herbs),
Freeze-Dried Vegetables (peas and/or carrots and/or corn).
Made in a factory where there are : nuts, peanuts, sesame, fish, sea food, mustard.