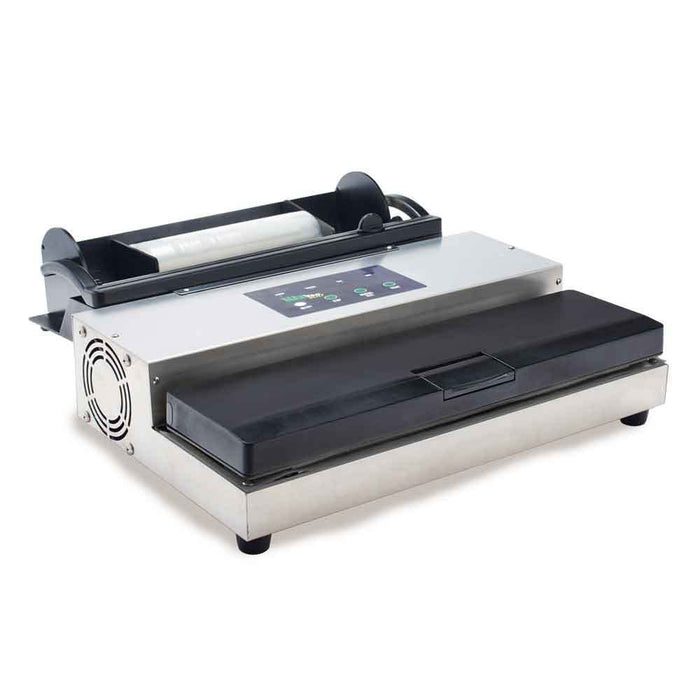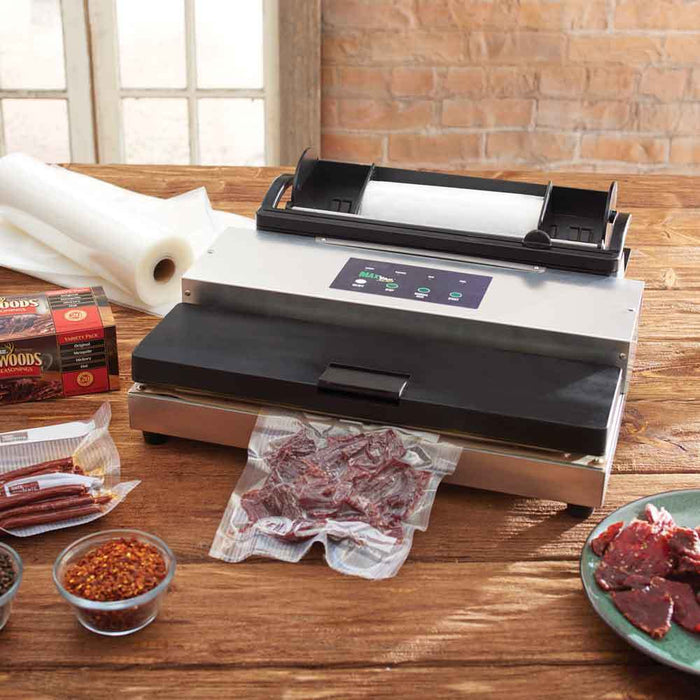 LEM MaxVac 500 Vaccum Sealer
The LEM MaxVac® 500 Vacuum Sealer is a high-quality, durable appliance that works well for those who don't need the industrial output of a larger machine.
Powerful and Easy-to-Use:
 The powerful pump and 14" x 1/4" seal bar will extract the air, seal it tight and extend the freshness and freezer life of your favorite foods.
One Handed Locking Lid:

 
With the 1-handed locking mechanism, the other hand is free to hold the bag making it easy for you to lock in freshness and flavor with the flick of a switch.
Durable Construction:

 
Aluminum construction means this unit is built to last and will blend in well with other kitchen appliances.
5 Hours of Continuous Use:

 
A built-in continuous run cooling fan on the LEM MaxVac® 500 allows for 5 consecutive hours of use and can do 450+ seals without stopping or cooling down.
Customizable Bag Size:

 
Includes a roll material holder and cutter to customize your bag size. Includes 8" x 25' roll of bag material. Material holder and cutter can be removed for standalone use.
Specs:
Dimensions: 18.55" x 11.46" x 4.77"
Weight: 17.22 lbs.
21Hg Pump
462 Watts
5 hour run time
14" Seal bar with seal of 1/4" wide
1/4" heat strip accommodates 14" wide bags
Spill trough 15 1/2" 1 1/4" x1/4"- which will hold about 2 1/2 fluid oz.
One 8" x 25' roll of vacuum bag material
Cord length is 6 ft.
2-Year Warranty
ETL approved
View 1253 Product Manual
View 1253 Quick Start Guide
View MaxVac User & Troubleshooting Guide

How to Use and Attach Bag Cutter:
Insert 2 baffles into the base of the holder, fitting to roll size.
With material coming off the bottom of the roll, feed material under the fixed rod and cutting bar.
Attached the MaxVac Roll Holder & Cutter to your MaxVac Vacuum Sealer